Kenneth C. Sands, MD
Hip Rehabilitation after Surgery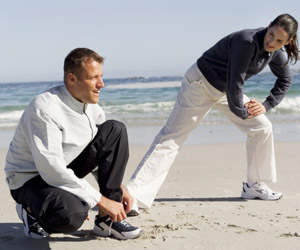 One of the most critical factors in achieving successful total hip replacement depends upon your diligence in physical rehabilitation. You must actively participate in the rehab process, working diligently on your own, as well as with the physical therapists, to achieve optimal results.
Early Rehabilitation
Physical therapists will begin treatment as early as 2-4 hours after surgery. They will teach you to ambulate with an assistive device such as a rolling walker, teach you to perform activities of daily living and instruct you on how to climb stairs safely. They will also instruct you on certain exercises that you can do on your own to help strengthen your atrophied muscles. When you are ready to leave the hospital, the physical therapists will review a series of progressive exercises for you to do at home. These are aimed at slowly strengthening the muscles and returning you to pain free movement. The most important activity you can do for your new hip is to walk as much as possible. This will help tremendously with flexibility and strengthening of your new hip!
MIS Hip Anterior Approach
Disclaimer
Last Modified: April 20, 2018