Kenneth C. Sands, MD
Implant Components & Procedure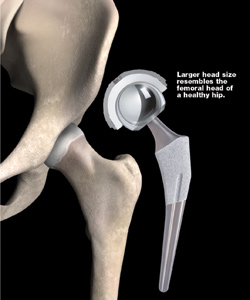 In total hip replacement surgery, the prosthesis or implant, is made up of three components. The femoral stem is made out of a metal, such as titanium, and is implanted down the shaft of the thigh bone or femur. The ball, or femoral head, is attached to the stem and is designed to replace the artificial femoral head. The third part, the acetabular component, is a metal shell with a plastic inner socket liner.
These components are implanted into the pelvis and thigh bone, and are designed to closely approximate the mobility of the natural hip joint.
The Procedure
Following anesthesia, the patient is placed supine on a special orthopedic table. The carbon fiber struts that support the legs, move appropriately and manipulate the operated leg during surgery. The unique capabilities of the table facilitate surgery through this smaller and less invasive approach.
MIS Hip Anterior Approach
Disclaimer
Last Modified: April 20, 2018